Our refactoring cue cards let you visualize refactorings easily. We designed them to teach code smells and refactoring. The cards are also handy to break down refactorings in work situations, for instance when doing a code review or while carrying out a set of refactorings.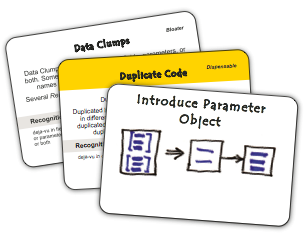 Half of the deck consists of code smell cards, the other half explains refactorings. A smell card explains how to detect the smell and refers to possible refactorings that could help make it go away. Refactoring cards have a small diagram (a 'refactoring thumbnail) showing the before and after situation on one side, and an explanation of the refactoring mechanics on the other side.
An explanation on how to use them is on the back of the pack. The pack also contains a list of references and a few blank cards to add your own smells and refactorings.
Order card decks
Prices include shipping; 21% VAT will be added to the price. We accept Paypal and major credit cards. Payment and invoicing is handled by Piecemeal Growth, a partner in QWAN.
Please provide us with your telephone number, otherwise we cannot to ship the card deck!
Important notice for UK customers: if you'd like to order one or more decks, please contact us for quote.
If you'd like to order a large amount of cards or if you have any other requests, please let us know.